What is a Record of Title?
Records of Title (formerly known as a Certificate of Title) are documents that shows the current owner, the land description, and any associated interests on a property. Associated interests can include mortgages, easements, caveats, or covenants. You can order a copy of the Record of Title to find a property's proprietors, legal description and the rights and restrictions registered against the property title.
What information does a Record of Title reveal?
A Record of Title will reveal the current proprietor, legal description, registered rights and restrictions, any covenants, easements and other equitable servitudes, any mortgages on title, any caveats that may be registered and the document by which the owner came to be on title.
A copy of a Record of Title will show information pertaining to the type of ownership of the property, including if it is under sole or co-ownership. If it is the latter, the copy will also show whether the co-ownership is for tenants in common or joint tenants. It will also detail a land description, including area and estate type. When a copy of the Record of Title is ordered, a plan or diagram of the land can be included if selected.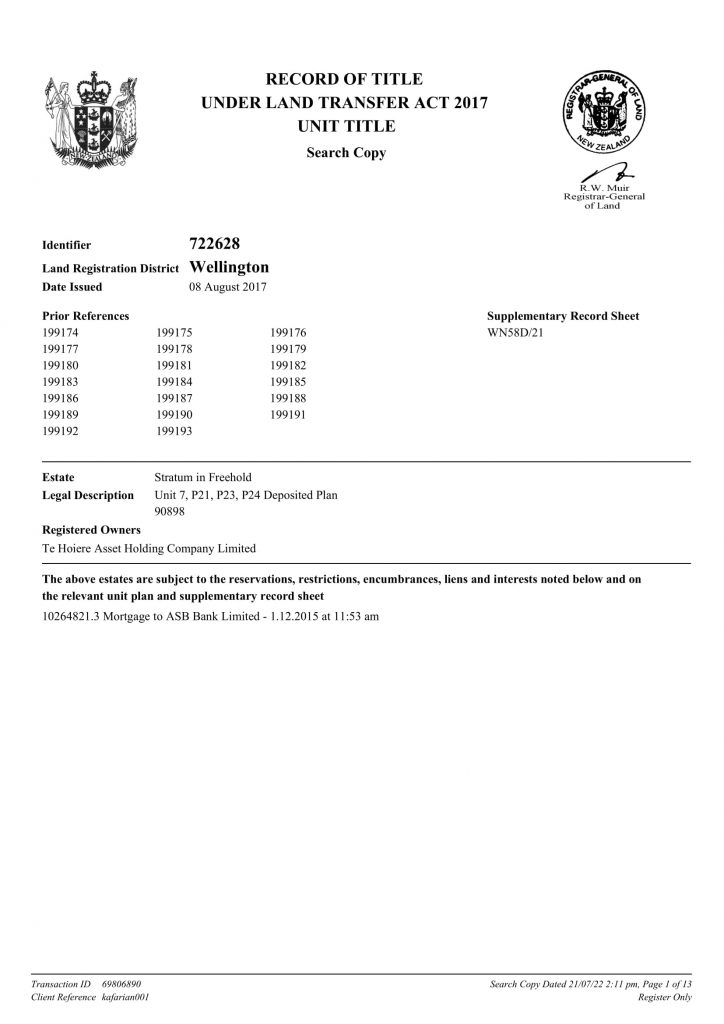 Searches related to Records of Title
A current record of title shows current proprietor, legal description, registered rights, and restrictions, and includes a plan or diagram of the land.
A historic record of title shows all interests registered from when the title was created. It may include an image of the original paper title.
A guaranteed search shows the same information as a current record of title as well as any documents recently lodged with Land Information New Zealand (LINZ) that are not yet formally registered against the title. This is mostly commonly used by legal practitioners during property sale and purchases. 
InfoTrack New Zealand has direct access to LINZ, allowing you the ability to perform a Record of Title search from within the InfoTrack system using; the title reference, searching by company or personal name, or street address. Start searching today.
Agile firms save time with smart technology. Get started today.